5 Christmas decorating trends you should embrace this year
Are you ready for the festive season?
While decorating with traditional red and green will always be a favourite at Christmas, every year sees new, emerging festive trends that can influence how we dress our homes for the season.
But what trends should we be paying attention to? Take a look at the hottest trends that will influence our homes and decorations this year.


1. CHRISTMAS GETS QUIRKY
This Christmas is all about injecting some personality – think fun, bright and quirky. While a theme is always welcomed, don't be afraid to go against the grain. For example, why don't you embrace the tropical Christmas look? Not just confined to summer, palm tree prints have been given a sophisticated twist for autumn/winter, and this Christmas everything from pineapple-shaped glassware to gold glittered pineapple baubles, will be everywhere too.
Not keen on the pineapple trend? How about the cactus, unicorn or llama? John Lewis' Lima Llama theme, which kids will also love, draws on Peruvian festivals to celebrate all that is bright about Christmas, with multicoloured ornaments and pom-pom garlands really bringing the scheme to life.
2. ALL OF THE LIGHTS
Nothing screams Christmas more than some statement lights. From Paperchase's fun-at-heart pom pom lights (£15), to Marks & Spencer's acrylic reindeer face led lights (£8), playful designs will put the fun back into decorating. Whether you choose colourful, craft-inspired designs made from materials like felt and wood, or the more exquisite, delicate-to-touch string designs, usually in copper, your lights should definitely take centre stage this season.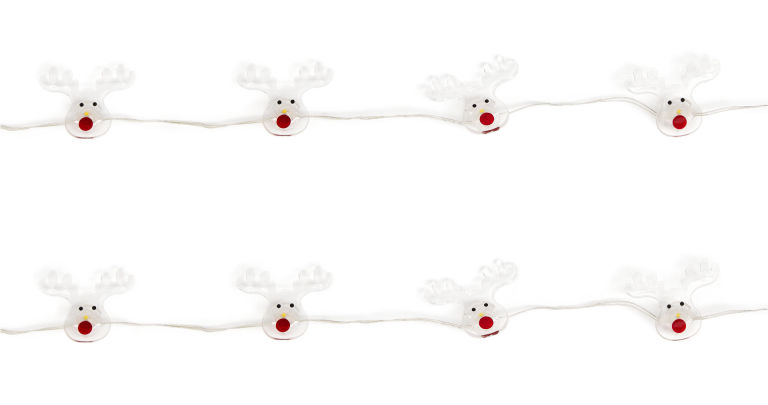 But no longer limited to just the tree or windows, we're seeing lights used more creatively around the home, too. Festive Lights note how 'lights draped along the mantelpiece are a modern take on a garland', while light up wreaths (£26, Lights4Fun), and wooden light up scenes or shadow boxes, like this Nordic Country Ornament Wooden Light Up Church (£8, Wilko), have really emerged as a key decorative element emitting a warm glow throughout the home.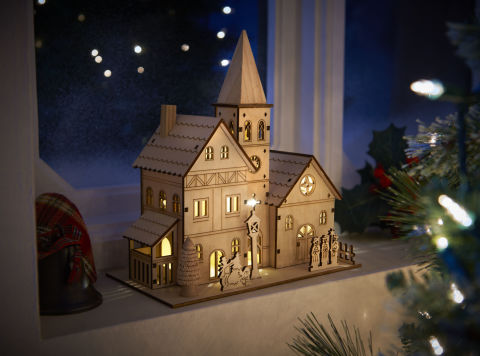 And then there's Twinkly, a string of festive lights that can be controlled with your smartphone. Available to buy from Amazon or John Lewis, Twinkly is bringing smart technology to Christmas decorations, whilst enabling you to create pretty much any colour combination or animated effect for a showstopping display.


3. TINSEL = THE COMEBACK KID
Tinsel is back – because John Lewis said so! Tinsel will be among the many decorations in homes this year, whether that's on the tree or draped along the staircase. Dan Cooper, Christmas buyer at John Lewis, says: 'This year – you heard it here first – tinsel is back. We've worked with our manufacturer in Wales to update this retro decoration and offer it in exciting new guises. My favourite is the oak leaf tinsel in soft gold (£5), which is about as far from the crushed and faded stuff in my attic as I can imagine.'
4. MODERN METALLICS
Just in case you had any doubts, metallics are going nowhere! While it's always popular at Christmas, the recent trends of copper, rose gold and bronze in our everyday interiors means this festive season it will be bigger than ever – and we're not just talking about the Christmas tree. Hosting and entertaining is a big part of the festive season, and from tableware to appliances, gleaming metallic accents with a warm glimmer will be taking over your home, all exuding decadence and luxury for that extra special touch.
One of Waitrose's key Christmas themes is modern metallics, something they describe as 'simple, modern and indulgent' with tones of gold that are 'dipped, brushed, pearlised and foiled'. Meanwhile, the Boutique Christmas range from Sainsbury's brings all the glitz and glamour with added flair. The supermarket's Renaissance Boutique collection of barware 'echoes the roaring 20s of the Great Gatsby era with its opulent grandeur and ornate designs,' perfect for a sophisticated festive celebration.
---
5. FABULOUSLY FESTIVE FLOWERS
Whatever flower arrangement you choose, no Christmas bouquet is complete without sprinkles of glitter this festive season. 'We've had fun with glitter and sparkle, taken a modern approach to metals using copper, gold and silver together, and used clean, crisp whites to create beautifully classic bouquets,' says Waitrose florist Chris Wood.
This year's blooms are also bursting with colour, with Interflora's festive offering featuring lavish reds, fresh greens and crisp whites – with lots of gold, silver and sparkles thrown into the mix, of course.
With bringing the outside in more prevalent than ever, ensure you deck out your home with floral arrangements, and by that we mean a gorgeous floral display in the hallway – why not entwine a floral garland along the staircase, frame a mirror or hang up a wreath – and similarly, use florals to create a spectacular table centrepiece in your living room.
For the original article: Click here